Written by angelo on March 27, 2008 – 1:19 pm -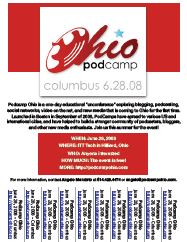 Please help us promote the event by printing and posting the flyers we have available at your local coffee house, library and/or community boards.
There are three flyers to choose from. If you have a black and white laser printer, please use the black and white flyer for the best results.
Tags:
event flyer
,
flyer
,
podcamp
,
podcamp ohio
,
promote
Posted in
Promotion
|
2 Comments »
2 Comments to "Event Flyers Now Available – Help us spread the word"
FriedGeek Says:
March 28th, 2008 at 2:25 pm

I don't see any links to where to get these flyers. Am I missing them?

Thanks.

angelo Says:
March 28th, 2008 at 6:13 pm

Sorry about that, I meant to make the image a link but obviously missed it. I also added a link to the bottom of the post. Thank you for the heads up.