Written by kait on June 23, 2008 – 12:34 pm -
If you find yourself needing a dance break, background music for your personal podcast or some relief from the pressure of your iPod headphones during PodCamp Ohio, you're in luck. Mike Genovese, a solo, acoustic musician from Columbus, Ohio (via Cleveland), will provide lunchtime tunes at PCO starting at 12:30p at ITT.
Read his official below to find out more, but I can tell you from experience, it's sure to be a good time!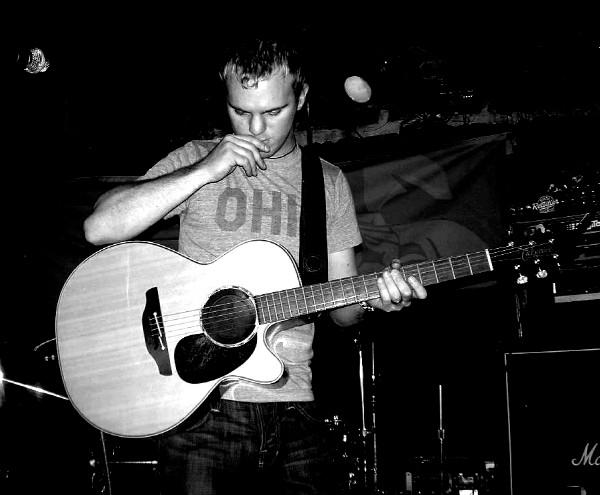 —–
Mike captures audiences with his engaging live performances. Inspired by artists Tim Reynolds, Howie Day and Joseph Arthur, Mike incorporates the use of a technique called "looping" or "sampling" that happens LIVE by adding layers of sounds, finally creating the presence of a full band. You'll be tapping your feet when Mike cuts phat beats (yes, phat…) live on-stage to accompany his songs.
Although still relatively new to the music scene, Mike has shared the stage with many national acts including: Pat McGee Band, Ari Hest, Matt Wertz, Mat Kearney, Jump (little children), Lifehouse, Tim Reynolds, Stephen Kellogg and the Sixers, Virginia Coalition, Jack Johnson, G. Love and Special Sauce, Blessid Union of Souls, Matt White, ZOX, Michael Tolcher, Rusted Root, Collective Soul, Cary Brothers, The Clarks, Josh Hoge, Mason Jennings, Blue October, Carbon Leaf, Red Wanting Blue, Oval Opus, Mieka Pauley, and The Damnwells.

Watch for Mike's latest CD due out this year!
http://www.mgenovese.com
http://www.myspace.com/mikegenovese
Tags:
Mike Genovese
,
podcamp ohio
Posted in
News
,
Sessions
|
1 Comment »
One Comment to "Need a dance break during PodCamp Ohio?"
PodCamp Ohio » Blog Archive » Mike Genovese rocks Podcamp Ohio Says:
June 29th, 2008 at 7:50 pm

[...] at Podcamp Ohio this weekend! One of the many highlights for me was the live music at lunchtime. Mike Genovese is someone I just met at Podcamp. I shot a ton of video this weekend, and I wanted to get this [...]