Posts Tagged 'coefficient media'
Written by angelo on June 24, 2008 – 9:39 am -
Thank you for registering for the first annual PodCamp Ohio. We are excited to have you at this inaugural event.
We've created an event information sheet which includes some basic event information including the schedule of events, what to expect on PodCamp day, map with directions, basic hotel information and a list
of dining options in the immediate area.
http://2008.podcampohio.com/event_info.pdf
Social Networking @ PodCamp Ohio
Some organizers and volunteers will be sending twitter messages throughout the day to the @PodCampOhio account with important event information, session announcements and general event reporting. Please be sure to follow @PodCampOhio so you are in the loop during PodCamp Ohio.
Chris Brogan created a general PodCamp Twitter Group Account for all PodCamps. For those Twitter users who follow @podcamp, all you have to do is type pod (space) your message send to this group.
Travel Safely!
Please travel safely this weekend. If you're running late, don't worry. A number of PodCamp volunteers
including Coefficient Media will be recording the sessions. Please take your time and be safe.
Thank you and see you at PodCamp Ohio,
Angelo Mandato
Tags:
2008
,
coefficient media
,
columbus
,
event
,
inaugural
,
info
,
information
,
ohio
,
podcampohio
,
travel
,
twitter
Posted in
News
|
1 Comment »
Written by angelo on June 18, 2008 – 10:54 am -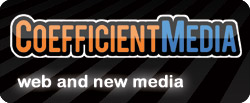 PodCamp Ohio is pleased to be sponsored by Coefficient Media. Coefficient Media is a gold sponsor, they will be recording all of the sessions and posting them on-line for us.
Coefficient Media is a small web and new media company located in Jackson, Michigan. We specialize in producing and developing audio, video, podcasts and other forms of live and interactive media along with a wide array of web sites (including social networks) that emphasize quality design and usability and are built on open source platforms like Drupal. We are
committed to bringing the best emerging technology to our clients and teaching them how to best navigate the digital landscape.
Tags:
coefficient media
,
gold
,
recording
,
Sessions
,
sponsor
Posted in
Sponsors
|
No Comments »