Posts Tagged 'ITT technical Institute'
Written by angelo on May 6, 2008 – 1:05 pm -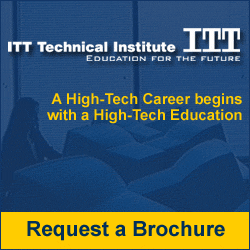 Podcamp Ohio is pleased to feature ITT Technical Institute Hilliard – Columbus as the exclusive venue sponsor for PodCamp Ohio 2008.
The ITT Hilliard – Columbus facilities are perfect for a PodCamp. There are multiple rooms available ranging in seating between 24 and 75 with screen projectors and network access. The location has ample parking and easy to access from the highway. The main lobby and lounge area will provide ample space for attendees to socialize and network between sessions. There are also a number of break out rooms that will be available for podcasters to perform interviews and record podcasts.
Thank you ITT Technical Institute for providing us such a great venue location.
Tags:
columbus
,
Hilliard
,
ITT
,
ITT technical Institute
,
ohio
,
sponsor
Posted in
Sponsors
|
No Comments »
Written by angelo on May 4, 2008 – 12:24 am -
Mary, Jason, Gabe and I (Angelo) visited ITT this past Friday to check out the facilities. I must say, ITT has gone above and beyond to help us put on PodCamp Ohio this year. We cannot thank them enough for the opportunity!
Our first task was to assess the rooms available. One of the rooms available to us the entire day is perfect for our First Aid room for podcasters to setup their computers and practice podcasting. While taking pictures of the other rooms, we discovered 5 break out rooms that will be available to us as well. These are perfect rooms for those who may want to have a discussion or record interviews outside of the hallways. We also took some pictures of the lounge area, which will have vending machines and plenty of seating for socializing and networking.
We also inquired about Internet access for the event. Each projector has an ethernet port available for the presenter. In addition, there will be wireless access available as well. The wireless access will most likely be made available via a guest account. We will get more details for this when we're closer to the event.
Photos of Visit
Tags:
Flickr
,
internet
,
ITT
,
ITT technical Institute
,
photos
,
rooms
,
Sessions
,
venue
,
wi-fi
Posted in
Planning
,
Sessions
|
1 Comment »
Written by angelo on March 25, 2008 – 1:54 pm -
(Columbus, Ohio) Everyone from executives in the marketing, business, design and technology industries to house wives and students will gather at ITT Technical Institute in Hilliard on Saturday, June 28, 2008 for PodCamp Ohio. Anyone interested in learning about, experiencing or collaborating on topics such as podcasting, blogging, new media and social networking will learn from and interact with the experts at this day-long "unconference."
"It's all about learning, getting hands on with new media and spending time with folks that make up your online community," said Angelo Mandato, coordinator of PodCamp Ohio. "By attending PodCamp Ohio, members of the blogging, podcasting, marketing, academic, and business communities will lead the charge toward embracing and effectively utilizing new and social media in our area," he added.
PodCamp Ohio offers a unique opportunity for attendees to learn, share or grow their new media skills. They can attend informal sessions, created and driven by participants, about podcasts, blogs, digital music, web video and related aspects of new, Internet-based media. The format allows both beginner and expert media producers, as well as listeners, watchers and readers, to participate, discuss and network.
PodCamp Ohio is presented by ITT Technical Institute in Hilliard, OH (Columbus metro). The event is open to the public, but registration is required. To sign up or learn more, visit 2008.podcampohio.com. Experience with podcasting or blogging are not requirements to participate; professionals of any industry, hobbyists and students are encouraged to attend.
Sponsors are still being accepted. If you are interested in sponsoring PodCamp Ohio, contact Angelo Mandato by calling (614) 429-4474 or sending an email to angelo [at] podcampohio.com.
Tags:
columbus
,
Hilliard
,
ITT technical Institute
,
ohio
,
podcamp
,
podcamp ohio
,
press
,
press release
Posted in
News
|
No Comments »
Written by angelo on February 3, 2008 – 12:19 am -
The third PodCamp Ohio meetup is scheduled for 11 AM today at the Hilliard Panara Bread near ITT Technical Institute. Google Map.
We'll have PodCamp Ohio promotional business cards to hand out as well as talk about session planning, registration system and seeking out sponsorships.
As usual, we'll be talking about other topics related to podcasting, new media, blogging and social networking. See everyone in 11 hours!
Tags:
february
,
Hilliard
,
ITT technical Institute
,
meetup
,
podcamp
,
registration
,
Sessions
,
Sponsors
Posted in
Planning
|
No Comments »