Archive for October, 2008
Written by angelo on October 19, 2008 – 10:27 am -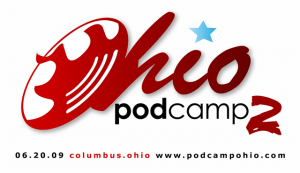 PodCamp Ohio 2 is coming next year on Saturday, June 20, 2009 at The Ohio State Univesity. More details will be made available as soon as possible.
Tags:
2
,
2009
,
ohio
,
podcamp
Posted in
News
|
7 Comments »
Written by angelo on October 15, 2008 – 7:38 am -
Special Announcement
PodCamp Ohio will be making a special announcement tomorrow night (Thursday, October 16, 2008) at 9pm on the Doctor Anonymous podcast. Call-in Number: (646) 716-9514
PodCamp Pittsburgh this weekend
PodCamp Pittsburgh will be taking place this weekend (Saturday, October 18 and Sunday, October 19, 2008) at the Art Institute of Pittsburgh. More information of the time and location may be found on the PodCamp Pittsburgh web site.
New Media Cincinnati meetup this Saturday
New Media Cincinnati (facebook home) is taking place this Saturday, October 18, 2008 at XXX Panera Bread. More details available here.
Tags:
announcement
,
doctor
,
dr anonymous
,
pittsburgh
,
podcamp
Posted in
News
|
Comments Off
Written by angelo on October 7, 2008 – 10:18 am -
The 6th annual Ohio LinuxFest is coming this weekend, Friday, October 10th and Saturday, October 11th at the the Columbus Convention Center in downtown Columbus, Ohio. LinuxFest is welcome to Free and Open Source Software professionals, enthusiasts, and anyone who wants to take part in the event.
Similar to PodCamps, Ohio LinuxFest is a grassroots conference for the Linux/Open Source Software/Free Software community. It is very much a community event and run by volunteers, some of which also volunteered at the first PodCamp Ohio.
In the spirit of supporting an open community, there are three ways you can register to attend. For those who are enthusiasts or are new to Linux, feel free to register with the FREE "Enthusiast Package". If you would like to support the community, you can register either with the "Supporter" $65 or the "Professional" $350 package.
See you at Ohio LinuxFest!
Tags:
community
,
linux
,
linuxfest
,
ohio
,
ohio linuxfest
,
open source
Posted in
News
|
Comments Off