Participate
Please participate! The more people who participate the better this event will be!
Share your Podcamp media!
We'd really love to have all of our Podcamp Ohio pictures and videos in places where attendees can find them, so click the links below to add your pictures and video! Check out our other social networking profiles as well!
Buttons and Badges
Be a Fan of PodCamp Ohio and add one of the buttons and badges to your web site. Once you've added a badge or button, get listed on the PodCamp Ohio Fans page by E-mailing (fan [at] podcampohio.com) with a link to your web site.
Event Flyers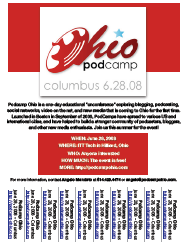 Please help us promote the event by printing some of the available event fliers and post them at your local coffee house, library and/or community boards.
T-Shirts
Help promote PodCamp Ohio by wearing one of these one of a kind T-shirts.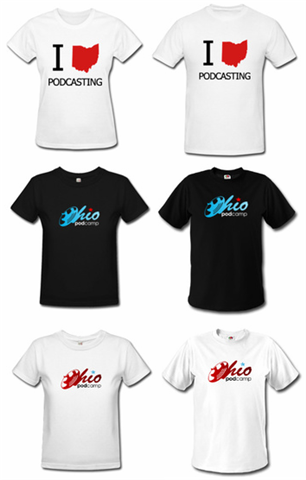 http://podcampohio.spreadshirt.com/
All shirts are sold at cost. Thanks Brian for getting these together for us!
PodCamp Promos
Play a PodCamp Ohio promo in your podcast. Check out the promotional audio and videos other PodCamp Oho attendees have created!
If you've played a promo in your podcast, get listed on the PodCamp Ohio Fans page by E-mailing (fan [at] podcampohio.com) with a link to your web site.
E-mail Discussions
Get the latest planning information and help contribute by joining the Google Group.
groups.google.com/group/podcampohio
Weekly Phone Meetings
Feel free to join the organizers at one of the PodCamp Ohio weekly meetings held every Thursday at 8pm.
Monthly Meet-ups!
Come meet fellow podcasters for a couple hours and find out what is happening with PodCamp Ohio planning. The meet-ups focus on podcasting, new media and blogging but occasionally we discuss PodCamp planning as well. A PodCamp Ohio Meet-up is a great opportunity to get your feet wet for PodCamp Ohio!
Our next meet-up will be taking place on April 13 at 11am at the Chapel Hill Mall Panara Bread in Cuyahoga Falls, Ohio.
More information is available on the PodCamp Ohio meetup page.
Volunteer during the Event
Help attendants sign in, hand out swag, assist others find sessions and more. Please contact Angelo (angelo [at] podcampohio [period] com) for more details.
PodCamp Ohio Calendar
Link: PodCamp Calendar | iCalendar | XML
One Comment to "Participate"
PodCamp Ohio » Blog Archive » One Month Until PodCamp Ohio Says:
May 28th, 2008 at 2:29 pm

[...] Participate [...]