Archive for August, 2008
Written by Doctor Anonymous on August 15, 2008 – 8:31 am -
Thanks to everyone who joined the Podcamp Ohio Online Meetup last night! It was of course on
The Doctor Anonymous Show
.
Brandice
and
Angelo
called in from
New Media Expo
in Las Vegas. They talked a little about what New Media Expo is and what went on today out there.
With respect to Podcamp Ohio material, we talked about ideas for content for the 09 meeting. We also had a discussion about the pros and cons of a two day conference. Thanks also to Mitch and Daniel for calling in, talking about their websites, and answering questions.
Mitch also talked about their adventure of having the baby last week (great pics on his blog). In addition, in a Podcamp Ohio meeting exclusive, Angelo announced that he and his wife are expecting and the due date is just after the first of the year.
We even had a new podcaster call into the show. Check out his blog here. He wanted to ask about what to do to start. Thanks Mitch and Daniel for fielding those questions.
Finally, following the show, I hosted an "after show" party over on ustream. I even recorded it. Check out the recorded video show here. Thanks so much for all your support of the show! I really appreciate it. Have a great weekend, everybody!
Podcast: Play in new window | Download
Posted in
Meetups
|
Comments Off
Written by Doctor Anonymous on August 12, 2008 – 12:49 pm -
How much fun did you have at Podcamp Ohio? However, I do miss hanging out with everybody and would love the opportunity to say hello again. Well, I have the perfect place for you to do just that. (BTW, kudos to
tw3nty3ight
for starting an online meetup and shout out to those who attended
New Media Cincinnati
last weekend)
Podcamp Ohio is having an online meetup this Thursday, August 14, 2008 at 9pm Eastern Time on The Doctor Anonymous Show. Angelo will be calling in live from Las Vegas where he is attending New Media Expo. And, if you're out there, make sure you check out Coverville 500 on August 15 at 7pm sponsored by Blubrry.
Also scheduled to call into the show is Brandice to give us a Vegas report. She's going to be hanging out there with her Viddler peeps. If you haven't already, check out the New Media Expo Videos including this announcement from Viddler.
In addition to all of this, we'll continue to talk about issues concerning Podcamp Ohio 09. Angelo posted this discussion thread last week asking if blogging topics should be considered for the 09 event. In addition he threw out an idea of making this a 2 day event instead of a 1 day event. Finally, he made a suggestion of the weekend of June 20th, 2009 as a possible date.
I hope that you will be able to join us live Thursday night. There will be a live chat room, you can call into the show, and you can even see my shining face on the live webcam. If not, feel free to leave comments below, or even in the Podcamp Ohio Google group. (Oh yeah, in case you didn't know, studionashvegas and Mrs. studionashvegas welcomed Lucas to the world last weekend. I encourage you to check out his blog post and say hello!)
Posted in
Meetups
|
1 Comment »
Written by Doctor Anonymous on August 11, 2008 – 10:40 pm -
In case you missed it,
Brandice
just posted some of the video she shot while at Podcamp Ohio. This includes
the video above
which is a musical tour through the lunch line. Her other videos include from the registration desk, from the pre-podcamp dinner, and "the outtakes from the outtakes." Check out the
Podcamp Ohio group
on Viddler.
Posted in
Uncategorized
|
Comments Off
Written by Doctor Anonymous on August 11, 2008 – 10:07 pm -
Thanks to everyone who participated in the
Podcamp Ohio 2008 Wrap-up meeting
which took place on July 10, 2008 on
The Doctor Anonymous Show
.
Brandice
called in first and gave some general feedback and some discussion on the sessions that she presented.
Angelo then called in and started with the positive feedback from the event. He then discussed a post that was written by Owen Winkler. This post generated a lot of discussion in the days leading up to this wrap-up meeting. Then, Owen himself called into the show to further discuss his post. I really appreciate Owen calling into the show. And, don't get me wrong, his feedback (along with others who had the same sentiments) is definitely constructive criticism and issues that we need to work on before the 2009 event.
Finally, we discussed some initial concepts and ideas for Podcamp Ohio 2009. I encourage you to listen to the show and share ideas in the comments below on things we should think about for 2009. Thanks again to everyone who made Podcamp Ohio 2008 a fabulous event! (Why the gold medal at the top? Who knows? Just wanted to make any kind of subtle olympics reference)
Podcast: Play in new window | Download
Posted in
Meetups
|
Comments Off
Written by angelo on August 1, 2008 – 9:36 am -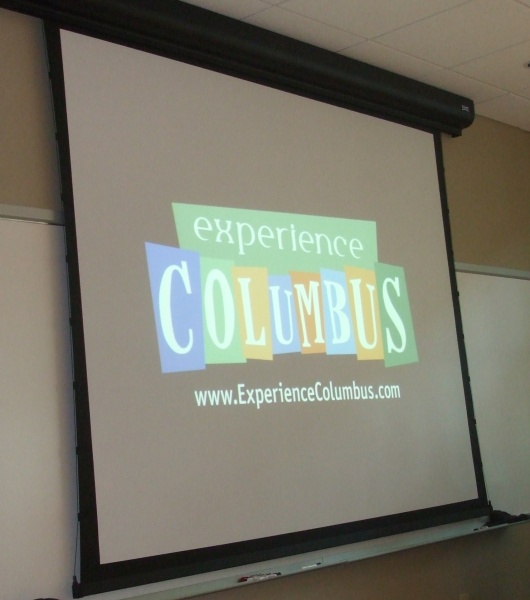 I and a few other Ohio bloggers and podcasters got an opportunity to get a sneak peak of the up coming marketing campaign for Experience Columbus. They have a lot of ideas, which center around an interesting idea, define something that absolutely does not exist in Columbus, get the audiences attention, then draw them to see the other things they can do in Columbus. The four ideas they presented were Mt. Everest, Eiffel Tower, ancient pyramids and catching Sasquatch.
The VIP event featured products and services you can find right here in Columbus. The one that stood out was SKREENED, a custom apparel company that has a fresh twist on the cafe press approach. They have a number of very funny shirts, I think the funniest one is the </GOP>, which if you're familiar with web programming you'll get the joke.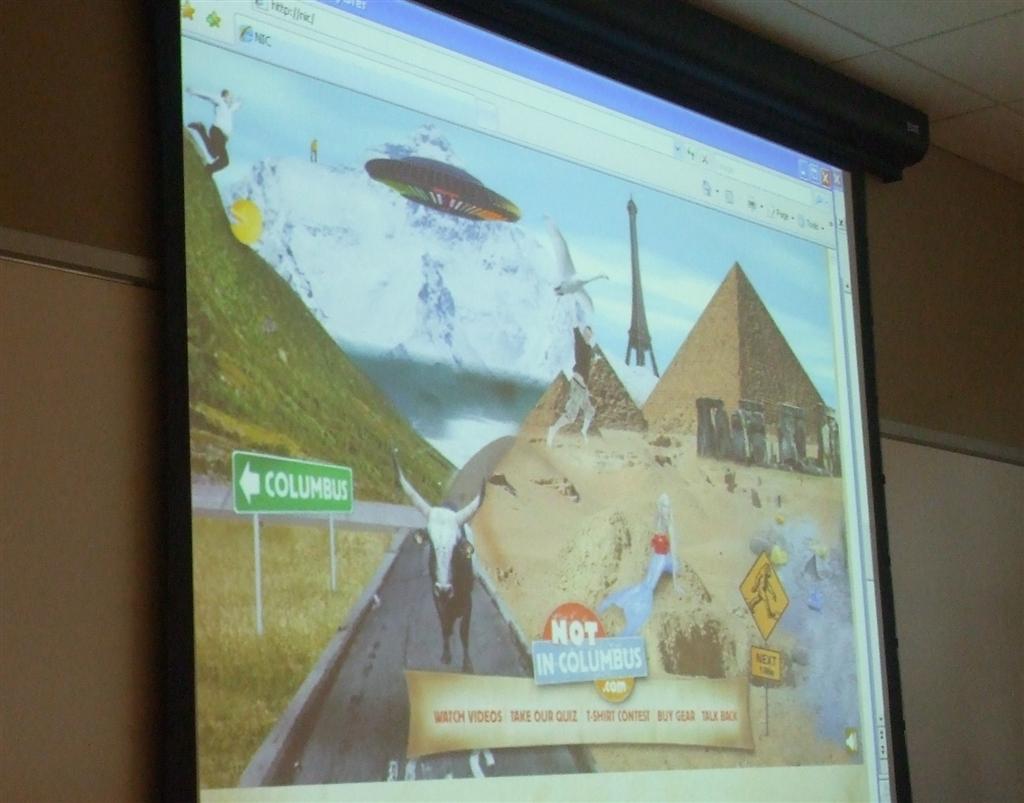 The last portion of the VIP event covered the www.notincolumbus.com web site which will be launching very soon. They demonstrated all the functionality of the site followed by an open discussion session. Many of the guests including myself had many suggestions and expressed opinions/concerns regarding the site they have planned. They seemed very eager to receive our input. It will be interesting to see if and how the Not In Columbus site evolves.
The campain should be very exciting and I'm hopeful they will set some guidelines to allow others to create viral videos that would help sturr buzz and and give many Columbus area residence a lot of fun and pride making their own Not In Columbus videos.
Tags:
campaign
,
columbus
,
experience columbus
,
not in columbus
,
ohio
,
Promotion
Posted in
News
|
3 Comments »