Posts Tagged 'columbus'
Written by angelo on August 1, 2008 – 9:36 am -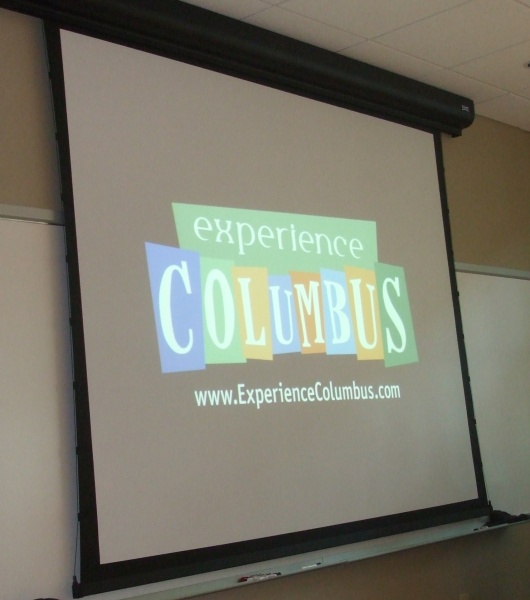 I and a few other Ohio bloggers and podcasters got an opportunity to get a sneak peak of the up coming marketing campaign for Experience Columbus. They have a lot of ideas, which center around an interesting idea, define something that absolutely does not exist in Columbus, get the audiences attention, then draw them to see the other things they can do in Columbus. The four ideas they presented were Mt. Everest, Eiffel Tower, ancient pyramids and catching Sasquatch.
The VIP event featured products and services you can find right here in Columbus. The one that stood out was SKREENED, a custom apparel company that has a fresh twist on the cafe press approach. They have a number of very funny shirts, I think the funniest one is the </GOP>, which if you're familiar with web programming you'll get the joke.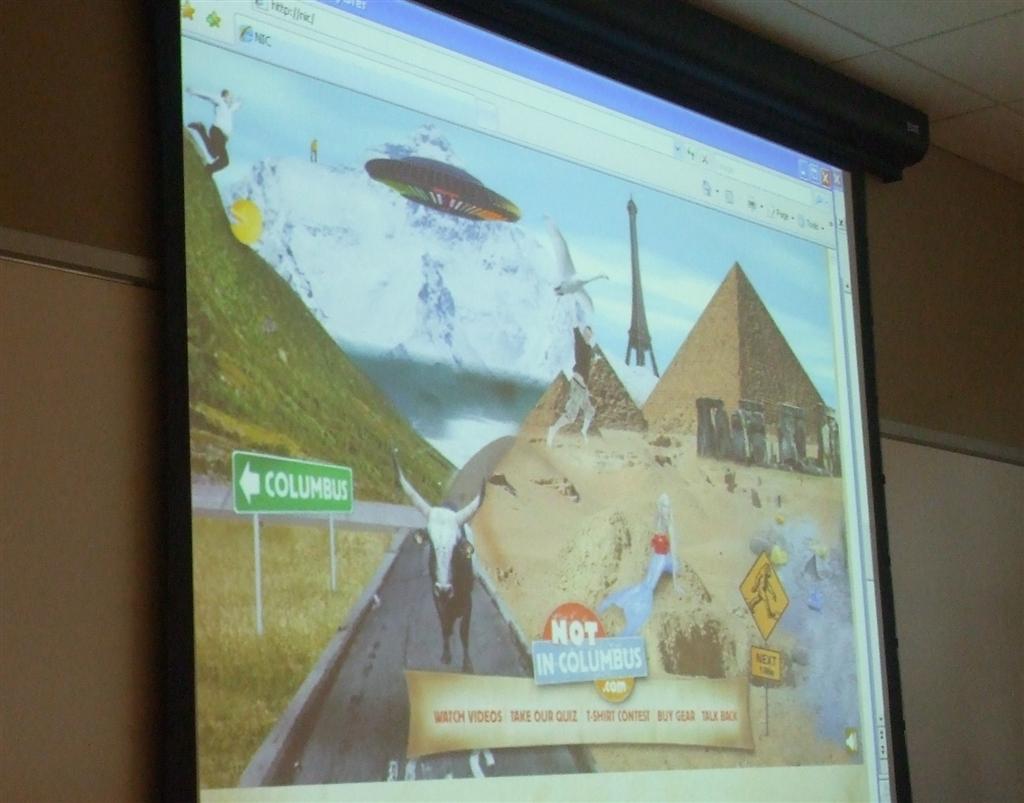 The last portion of the VIP event covered the www.notincolumbus.com web site which will be launching very soon. They demonstrated all the functionality of the site followed by an open discussion session. Many of the guests including myself had many suggestions and expressed opinions/concerns regarding the site they have planned. They seemed very eager to receive our input. It will be interesting to see if and how the Not In Columbus site evolves.
The campain should be very exciting and I'm hopeful they will set some guidelines to allow others to create viral videos that would help sturr buzz and and give many Columbus area residence a lot of fun and pride making their own Not In Columbus videos.
Tags:
campaign
,
columbus
,
experience columbus
,
not in columbus
,
ohio
,
Promotion
Posted in
News
|
3 Comments »
Written by angelo on July 28, 2008 – 9:23 am -
Experience Columbus will be hosting a VIP event for Columbus area bloggers and podcasters this Thursday, July 31 @6 pm in the Arena District (277 W. Nationwide Blvd, Suite 125, Columbus, OH / map). Bloggers and Podcasters who cover Columbus area news are encouraged to attend.
Experience Columbus will have locally made snacks, cool new Columbus t-shirts for everyone who attends, and a sneak preview of the new Experience Columbus marketing and social media campaign which will be used to promote Columbus nationally. Wi-fi will be available on site and people are welcome to live-blog, podcast, take pics, etc… Please arrive at 5:30 pm if you would like a tour of the Experience Columbus visitor center. The VIP event will conclude by 6:30 pm allowing attendees to network afterward.
Please RSVP for the event by leaving a comment on Kara Kretler's blog post about the Experience Columbus VIP event.
Tags:
blogging
,
columbus
,
event
,
experience columbus
,
podcasting
,
social networking
,
vip
Posted in
News
|
Comments Off
Written by angelo on June 24, 2008 – 9:39 am -
Thank you for registering for the first annual PodCamp Ohio. We are excited to have you at this inaugural event.
We've created an event information sheet which includes some basic event information including the schedule of events, what to expect on PodCamp day, map with directions, basic hotel information and a list
of dining options in the immediate area.
https://2008.podcampohio.com/event_info.pdf
Social Networking @ PodCamp Ohio
Some organizers and volunteers will be sending twitter messages throughout the day to the @PodCampOhio account with important event information, session announcements and general event reporting. Please be sure to follow @PodCampOhio so you are in the loop during PodCamp Ohio.
Chris Brogan created a general PodCamp Twitter Group Account for all PodCamps. For those Twitter users who follow @podcamp, all you have to do is type pod (space) your message send to this group.
Travel Safely!
Please travel safely this weekend. If you're running late, don't worry. A number of PodCamp volunteers
including Coefficient Media will be recording the sessions. Please take your time and be safe.
Thank you and see you at PodCamp Ohio,
Angelo Mandato
Tags:
2008
,
coefficient media
,
columbus
,
event
,
inaugural
,
info
,
information
,
ohio
,
podcampohio
,
travel
,
twitter
Posted in
News
|
1 Comment »
Written by brandice on May 26, 2008 – 12:36 pm -
Here are the first two videos from the Podcamp meetup in Columbus a couple weeks ago. In the first, you can see a bit of our Panera time and then little tidbits of our wanderings through ITT Tech. The second reveals that no one at ITT Tech likes podcasting and we epic fail at interviewing.
Tags:
angelo
,
brandice
,
columbus
,
Flip
,
ITT Tech
,
meetup
,
podcamp
,
podcamp ohio
,
Viddler
,
videos
,
wandering
Posted in
Meetups
,
Planning
|
2 Comments »
Written by angelo on May 18, 2008 – 8:47 pm -
Startup Weekend is coming to Columbus July 18-20. If you're a developer, designer, lawyer, project manager or have other background with starting a business, please check out Rocky VanBrimmer's post on Startup Weekend Columbus for more details.
Startup Weekend is not affiliated with PodCamp Ohio. We've added this announcement since it may be relevant to PodCamp attendees.
Tags:
columbus
,
july
,
startup
,
startup weekend
Posted in
Related Sites
|
No Comments »
Written by angelo on May 14, 2008 – 6:58 pm -
We are having a Talkshoe meeting tomorrow, Thursday, May 15th at 8pm.
Agenda items:
Friday night before event plans
Saturday night after plans
ComFest
Sponsors Update
What ever else comes up
Call in information:
Talkshoe link: http://www.talkshoe.com/tc/80720
Phone number: (724) 444-7444
Talkcast id: 80720
PodCamp Meetup 6 This Saturday!
This will be the second last meetup before PodCamp! Meetup 6 will take place on Saturday, May 17 from 11:00 am – 1:00 PM at the Hilliard Panara Bread (3625 Fishinger Blvd, Hilliard, OH 43026) close to ITT Technical Institute (map). Immediately following, we will visit ITT for event organizers and volunteers to check out the facilities.
Tags:
columbus
,
comfest
,
Hilliard
,
meetup
,
ohio
,
panera bread
,
Sponsors
Posted in
Meetups
,
Planning
|
No Comments »
Written by angelo on May 8, 2008 – 10:34 am -
We are having a Talkshoe meeting tonight, Thursday, May 8th at 8pm.
Mary, Jason, Gabe and I (Angelo) visited ITT this past Friday. We now have details to help us schedule the sessions throughout the day. There are also some other features at the school we saw that will really help make this a great PodCamp!
The Columbus Social Media Cafe is organizing workshops for ComFest. We may be able to help by assisting with the podcasting workshop. Most likely the Podcasting 101 type sessions we already have planned would be the most relevant for the workshop. We will find out what the needs are for these workshops next week.
Agenda items:
Allocate Session times and rooms available.
Discuss the venue location (pictures here)
ComFest!
Podcasting Guide by Jason
Next Press Release – Lets focus on the sessions!
Sponsors update! Blip.tv on-board!
What ever else comes up
Call in information:
Talkshoe link: http://www.talkshoe.com/tc/80720
Phone number: (724) 444-7444
Talkcast id: 80720
Side Note
PodCamp Ohio 2008 event is now listed on the DiscoverOhio web site. Link: http://consumer.discoverohio.com/searchdetails.aspx?detail=63553
Tags:
blip.tv
,
columbus
,
comfest
,
guide
,
ITT
,
podcamp
,
podcasting 101
,
podcasting guide
,
press
,
press release
,
Sessions
,
social media cafe
,
Sponsors
Posted in
Planning
|
No Comments »
Written by angelo on May 6, 2008 – 1:05 pm -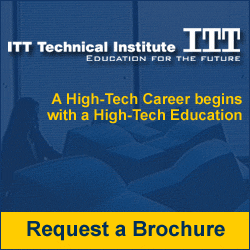 Podcamp Ohio is pleased to feature ITT Technical Institute Hilliard – Columbus as the exclusive venue sponsor for PodCamp Ohio 2008.
The ITT Hilliard – Columbus facilities are perfect for a PodCamp. There are multiple rooms available ranging in seating between 24 and 75 with screen projectors and network access. The location has ample parking and easy to access from the highway. The main lobby and lounge area will provide ample space for attendees to socialize and network between sessions. There are also a number of break out rooms that will be available for podcasters to perform interviews and record podcasts.
Thank you ITT Technical Institute for providing us such a great venue location.
Tags:
columbus
,
Hilliard
,
ITT
,
ITT technical Institute
,
ohio
,
sponsor
Posted in
Sponsors
|
No Comments »
Written by angelo on April 28, 2008 – 10:13 pm -
I would like to encourage bloggers and podcasters following PodCamp Ohio who are from the Central Ohio area to come to the Columbus Social Media Cafe Meetup scheduled for tomorrow, April 29, 2008. The group aims to explore how Social Media can be used to make life better and more interesting in the Columbus area. It will also give local fellow bloggers and podcasters the opportunity to network and exchange thoughts and ideas.
Tomorrows meetup will be taking place at the OCLC in Dublin from 6:30 PM to 8:30 PM. (map)
OCLC – Kilgour Building
6565 Frantz Road
Dublin, OH 43017
For more information, please visit the web site, socialmediacafe.wordpress.com.
Tags:
central ohio
,
columbus
,
columbus social media cafe
,
dublin
,
meetup
,
oclc
,
social media cafe
Posted in
News
|
No Comments »
Written by angelo on March 25, 2008 – 1:54 pm -
(Columbus, Ohio) Everyone from executives in the marketing, business, design and technology industries to house wives and students will gather at ITT Technical Institute in Hilliard on Saturday, June 28, 2008 for PodCamp Ohio. Anyone interested in learning about, experiencing or collaborating on topics such as podcasting, blogging, new media and social networking will learn from and interact with the experts at this day-long "unconference."
"It's all about learning, getting hands on with new media and spending time with folks that make up your online community," said Angelo Mandato, coordinator of PodCamp Ohio. "By attending PodCamp Ohio, members of the blogging, podcasting, marketing, academic, and business communities will lead the charge toward embracing and effectively utilizing new and social media in our area," he added.
PodCamp Ohio offers a unique opportunity for attendees to learn, share or grow their new media skills. They can attend informal sessions, created and driven by participants, about podcasts, blogs, digital music, web video and related aspects of new, Internet-based media. The format allows both beginner and expert media producers, as well as listeners, watchers and readers, to participate, discuss and network.
PodCamp Ohio is presented by ITT Technical Institute in Hilliard, OH (Columbus metro). The event is open to the public, but registration is required. To sign up or learn more, visit 2008.podcampohio.com. Experience with podcasting or blogging are not requirements to participate; professionals of any industry, hobbyists and students are encouraged to attend.
Sponsors are still being accepted. If you are interested in sponsoring PodCamp Ohio, contact Angelo Mandato by calling (614) 429-4474 or sending an email to angelo [at] podcampohio.com.
Tags:
columbus
,
Hilliard
,
ITT technical Institute
,
ohio
,
podcamp
,
podcamp ohio
,
press
,
press release
Posted in
News
|
No Comments »