Posts Tagged 'Promotion'
Written by angelo on August 1, 2008 – 9:36 am -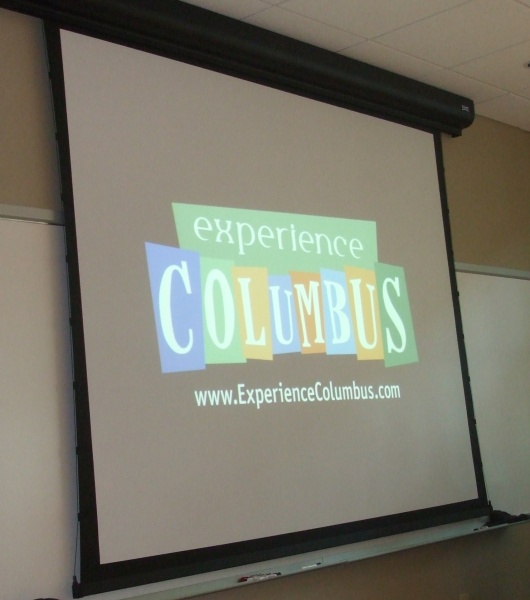 I and a few other Ohio bloggers and podcasters got an opportunity to get a sneak peak of the up coming marketing campaign for Experience Columbus. They have a lot of ideas, which center around an interesting idea, define something that absolutely does not exist in Columbus, get the audiences attention, then draw them to see the other things they can do in Columbus. The four ideas they presented were Mt. Everest, Eiffel Tower, ancient pyramids and catching Sasquatch.
The VIP event featured products and services you can find right here in Columbus. The one that stood out was SKREENED, a custom apparel company that has a fresh twist on the cafe press approach. They have a number of very funny shirts, I think the funniest one is the </GOP>, which if you're familiar with web programming you'll get the joke.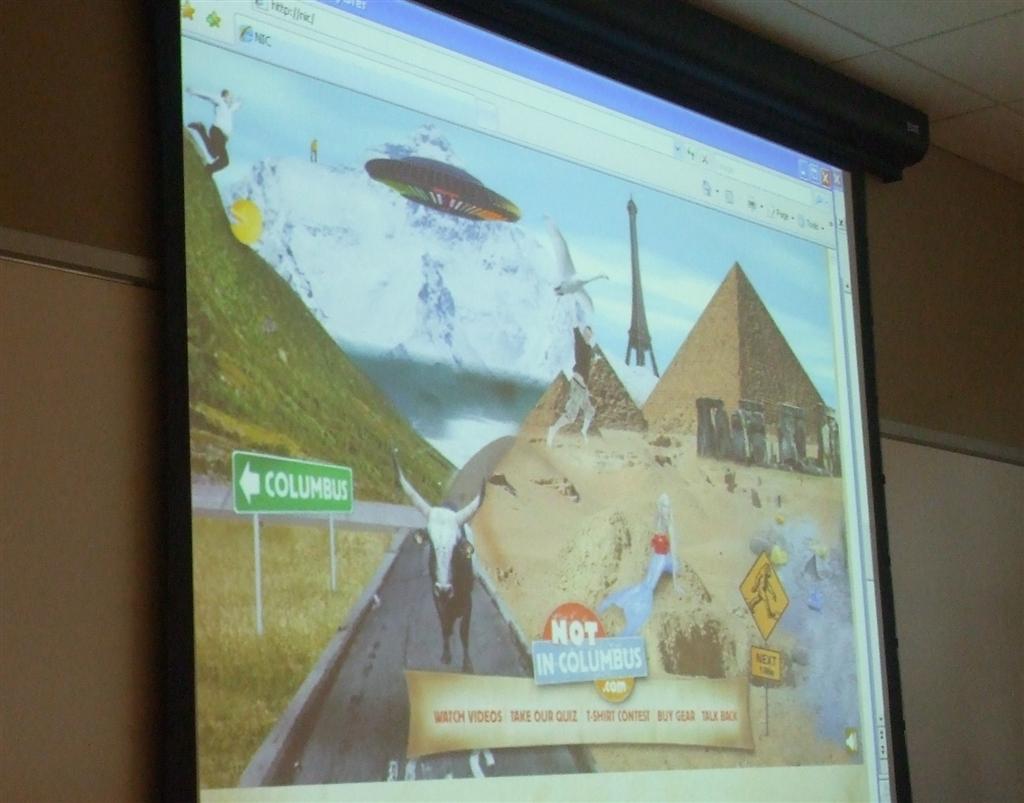 The last portion of the VIP event covered the www.notincolumbus.com web site which will be launching very soon. They demonstrated all the functionality of the site followed by an open discussion session. Many of the guests including myself had many suggestions and expressed opinions/concerns regarding the site they have planned. They seemed very eager to receive our input. It will be interesting to see if and how the Not In Columbus site evolves.
The campain should be very exciting and I'm hopeful they will set some guidelines to allow others to create viral videos that would help sturr buzz and and give many Columbus area residence a lot of fun and pride making their own Not In Columbus videos.
Tags:
campaign
,
columbus
,
experience columbus
,
not in columbus
,
ohio
,
Promotion
Posted in
News
|
3 Comments »
Written by angelo on May 13, 2008 – 10:52 am -
The Ohio Web Leaders (OhioWebLeaders.com) is hosting an Internet Marketing Conference here in Columbus Ohio this coming Monday, May 19th in Lewis Center, Ohio (just north of Columbus).
The conference will focus on integrating online and traditional marketing campaigns to generate more sales, leads and awareness online through corporate websites. The conference costs $199 to attend.
More details about the conference are available on the Ohio Web Leaders web site (OhioWebLeaders.com).
The Internet Marketing Conference is not affiliated with PodCamp Ohio. We've added this announcement since it may be relevant to some PodCamp attendees.
Tags:
campaigns
,
conference
,
ohio
,
ohio web leaders
,
Promotion
Posted in
Related Sites
|
No Comments »
Written by brandice on March 5, 2008 – 10:04 pm -
Hey, Podcamp goers! Are you already psyched for the big June event and busting at the seams to help other get people on board as well? Me too.

One way that every one of you can help the Podcamp crew to spread the word about Podcamp Ohio is through passing out the oodles of business cards and stickers that we already have for the event. We need man(and woman)power to spread all these goodies throughout the universe, so I am initiating a challenge to all of you:
PODCAMP OHIO VIRAL PHOTO CONTEST
If you need stickers and business cards, email Angelo or myself (I have a bazillion) and we'll get you stocked up so that you can head out into your local community and start spreading the word. At each location, get a picture of the placed cards and stickers, and the person with the most individual locations photographed will get some major kudos points and maybe even a viral marketing prize at Podcamp Ohio.
Ways to get it done (and make it fun):
1. Go with a friend.
Grabbing a partner makes the whole process feel like it's taking half the time. More power in numbers, more fun in numbers, and you'll have an extra person who can take photos of you actually posting the Podcamp goodies so that the photos will be more fun as well. Splitting up might cover a bigger area, but it's not nearly as much fun, and it will end up feeling more like work.
2. Make it a roadtrip.
Make a map of the area you want to cover in one day and pick the most logical route. Doing this in one day on a weekend with a map and a new cup of coffee at each stop will leave you feeling exhilarated by the end of the day, especially if you've spent the whole day driving around with another person who's as excited about Podcamp as you are.
3. Make videos as well.
The challenge is for photos, but videos are a ton of fun too, so if you have video-recording capabilities, take some video footage of your adventures, and throw them up in our Viddler group.
4. Put the photos up on Flickr.
We have a Podcamp Ohio Flickr pool that is sadly empty at the time of this blog posting, and adding all the photos of your marketing adventures will change that. Plus, seeing everyone else's photos may give you good ideas about new places that you could be putting more of those cards and stickers.
5. Talk smack and blog about it.
Blog some smack talk along with photos of where you've been already. Nothing will invigorate a competition like some good old fashioned smack talk, and I am likely to give extra points for really good smack.


__________________________________________
Now, what are you waiting for? Get ahold of Angelo or myself (brandice[at]podcampohio[dot]com) to get the goods if you don't already have some (printing out your own fliers with Podcamp Ohio logos on them is totally fine too), and then hit the road and start putting those cameras to good use!
DEADLINE: MAY 15th
Tags:
brandice
,
business cards
,
challenge
,
competition
,
Flickr
,
photos
,
Promotion
,
Viddler
,
video
,
viral
,
viral marketing
Posted in
News
,
Planning
|
Comments Off