Posts Tagged 't-shirt'
Written by angelo on June 24, 2008 – 9:22 am -
We have another T-shirt winner, Steve Bostedor (Twitter: @sbostedor). Steve was one of the first 200 registered guests that was randomly chosen from the first 200 registered guests.
During meeting 28, we discussed registration, separate twitter account to send twitter announcements when someone checks in, announced t-shirt winner, discussed the podcamp schedule from Thursday night through Sunday morning, staff t-shirts have been ordered, event guide, session schedule, Brandice's wedding in Las Vegas, and we answered some questions that some organizers and speakers had that were on the call. We also discussed the New Media Expo, Ham Radios, Digital Television, Internet access during PodCamp Ohio and the need to put together and send event information to registered guests.
Speakers
If you are speaking at PodCamp, screen projectors are available, but we will need to know ahead of time if you need one so we have it in your room. Please email angelo (angelo [at] podcampohio.com) and let us know if you will need a projector. You must provide your own computer that has a VGA port and 7-15 foot ethernet cable to connect to the Internet.
Podcast: Play in new window | Download
Tags:
200 registered guests
,
DTV
,
event info
,
new media expo
,
projectors
,
schedule
,
Sessions
,
speakers
,
staff
,
t-shirt
,
volunteers
,
wifi
Posted in
Planning
|
Comments Off
Written by angelo on April 20, 2008 – 7:06 pm -
We're almost at 100 registered guests for PodCamp Ohio and we still have over 2 months of registration before the event! As an incentive, I (Angelo) will buy one of the first 100 registered guests a FREE PodCamp Ohio T-shirt. We will randomly pick from the first 100 registered guests, excluding organizers of course.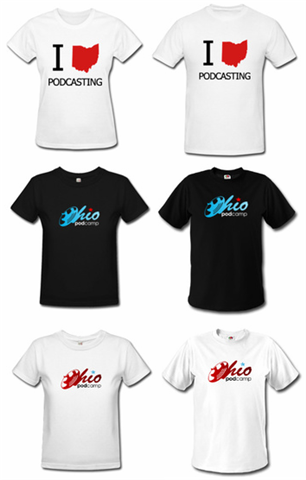 We may be giving away more T-shirts and other prizes as the event gets closer. so if you're planning on coming, get yourself registered!
Tags:
attendees
,
podcamp ohio t-shirts
,
registered
,
registration
,
t-shirt
Posted in
Promotion
|
No Comments »