PodCamp Ohio is a FREE UnConference focused on podcasting, blogging, new media and social networking. Join Us June 28 in Columbus and experience PodCamp for yourself!
Written by Doctor Anonymous on August 11, 2008 – 10:07 pm -
Thanks to everyone who participated in the
Podcamp Ohio 2008 Wrap-up meeting
which took place on July 10, 2008 on
The Doctor Anonymous Show
.
Brandice
called in first and gave some general feedback and some discussion on the sessions that she presented.
Angelo then called in and started with the positive feedback from the event. He then discussed a post that was written by Owen Winkler. This post generated a lot of discussion in the days leading up to this wrap-up meeting. Then, Owen himself called into the show to further discuss his post. I really appreciate Owen calling into the show. And, don't get me wrong, his feedback (along with others who had the same sentiments) is definitely constructive criticism and issues that we need to work on before the 2009 event.
Finally, we discussed some initial concepts and ideas for Podcamp Ohio 2009. I encourage you to listen to the show and share ideas in the comments below on things we should think about for 2009. Thanks again to everyone who made Podcamp Ohio 2008 a fabulous event! (Why the gold medal at the top? Who knows? Just wanted to make any kind of subtle olympics reference)
Podcast: Play in new window | Download
Posted in
Meetups
|
Comments Off
Written by angelo on August 1, 2008 – 9:36 am -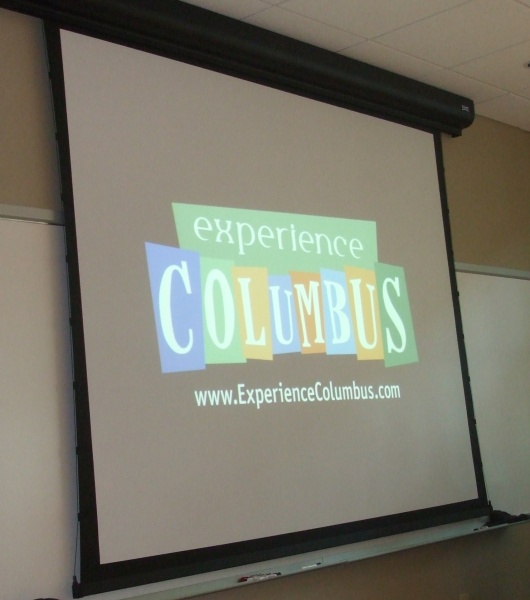 I and a few other Ohio bloggers and podcasters got an opportunity to get a sneak peak of the up coming marketing campaign for Experience Columbus. They have a lot of ideas, which center around an interesting idea, define something that absolutely does not exist in Columbus, get the audiences attention, then draw them to see the other things they can do in Columbus. The four ideas they presented were Mt. Everest, Eiffel Tower, ancient pyramids and catching Sasquatch.
The VIP event featured products and services you can find right here in Columbus. The one that stood out was SKREENED, a custom apparel company that has a fresh twist on the cafe press approach. They have a number of very funny shirts, I think the funniest one is the </GOP>, which if you're familiar with web programming you'll get the joke.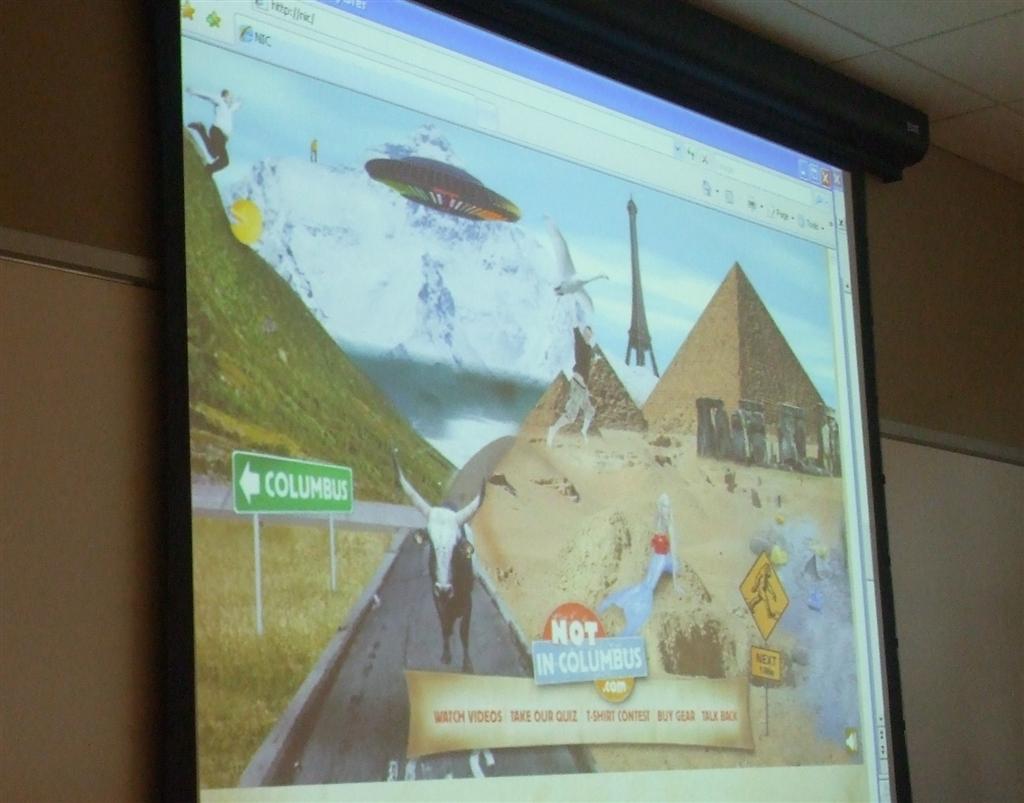 The last portion of the VIP event covered the www.notincolumbus.com web site which will be launching very soon. They demonstrated all the functionality of the site followed by an open discussion session. Many of the guests including myself had many suggestions and expressed opinions/concerns regarding the site they have planned. They seemed very eager to receive our input. It will be interesting to see if and how the Not In Columbus site evolves.
The campain should be very exciting and I'm hopeful they will set some guidelines to allow others to create viral videos that would help sturr buzz and and give many Columbus area residence a lot of fun and pride making their own Not In Columbus videos.
Tags:
campaign
,
columbus
,
experience columbus
,
not in columbus
,
ohio
,
Promotion
Posted in
News
|
3 Comments »
Written by angelo on July 28, 2008 – 9:23 am -
Experience Columbus will be hosting a VIP event for Columbus area bloggers and podcasters this Thursday, July 31 @6 pm in the Arena District (277 W. Nationwide Blvd, Suite 125, Columbus, OH / map). Bloggers and Podcasters who cover Columbus area news are encouraged to attend.
Experience Columbus will have locally made snacks, cool new Columbus t-shirts for everyone who attends, and a sneak preview of the new Experience Columbus marketing and social media campaign which will be used to promote Columbus nationally. Wi-fi will be available on site and people are welcome to live-blog, podcast, take pics, etc… Please arrive at 5:30 pm if you would like a tour of the Experience Columbus visitor center. The VIP event will conclude by 6:30 pm allowing attendees to network afterward.
Please RSVP for the event by leaving a comment on Kara Kretler's blog post about the Experience Columbus VIP event.
Tags:
blogging
,
columbus
,
event
,
experience columbus
,
podcasting
,
social networking
,
vip
Posted in
News
|
Comments Off
Written by angelo on July 10, 2008 – 10:36 pm -

Habari, one of our sponsors, has been nominated on SourceForge for the Best New Project of 2008. If you're not familiar with Habari, it is a next-generation blogging platform coded with a firm understanding of the current state of blogging.
Voting is open to any SourceForge member. Please register and vote to show your support for Habari.
Tags:
2008
,
best software project
,
habari
,
open source
,
source forge
,
sourceforge
Posted in
Sponsors
|
Comments Off
Written by Doctor Anonymous on July 7, 2008 – 11:18 pm -
Mark your calendars because the Post PodCamp Ohio Party is coming back to The Doctor Anonymous Show this Thursday, July 10th, 2008 at 9pm Eastern Time! There has already been a lot of great discussion regarding the evaluation of the initial Podcamp Ohio.
Angelo asked me to host a meeting/show to kind of bring all the feedback together so that we know how to move forward toward Podcamp Ohio 2009. What did people enjoy about Podcamp this year? What things shouldn't we change? What things can we do better for next year? Give it some thought.
Or, if like for the Pre Podcamp Party, you just want to hang out and have a good time, you know the time and place. Brandice has also said that she'll be there on Thursday. Will you?
Finally, if you haven't had a chance yet, check out the videos over on the Viddler site from Podcamp Ohio. There are a few taken from the sessions and some fun videos as well. Also, Coefficient Media has already put up some audio podcasts from the sessions. Enjoy the video above and hope to see you Thursday night!
Posted in
Planning
|
1 Comment »
Written by angelo on July 1, 2008 – 11:08 am -
We have t-shirts left (20 L, XL and XXL) from the event! If you did not get an event t-shirt and would like one, please email me (angelo [at] podcampohio.com) and I can give it to you at the next PodCamp or New Media Cincinnati meetup. If you would like it shipped, please donate $5 via paypal to cover packaging and shipping. Donate link will be provided below. Please provide your shipping address and indicate which T-shirt size( L,XL, XXL) in the notes section when filling out the PayPal information.
We've recovered someone's event bag which had a Medium size T-shirt. If this was yours, please email me and I'll ship it to you ASAP.
Tags:
event t-shirts
,
meeetup
,
new media cincinnati
,
t-shirts
Posted in
News
|
Comments Off
Written by Doctor Anonymous on June 29, 2008 – 7:41 pm -
What a great time everyone had at Podcamp Ohio this weekend! One of the many highlights for me was the live music at lunchtime. Mike Genovese is someone I just met at Podcamp. I shot a ton of video this weekend, and I wanted to get this piece out as soon as I could, because I really like the sound of this guy's music and I know that you will, too. (See video post above)
The majority of the video is at the end when he plays his first song. And, since most people were still in the lunch buffet line, the room didn't look to crowded at first. But, by the end of his set, the room was packed.
As Mike was setting up, he was nice enough to do an impromptu interview. We talked about his upcoming album called "So The Story Goes" and he said that it will be released sometime in the next couple of months. So, definitely check out his website and his myspace page.
Talking about video, I saw a lot of people shooting video this weekend. As you put things together, I encourage you to share it at the Podcamp Ohio group on Viddler. There's a feed over there to subscribe to, so that you will know exactly when I (and hopefully others) post videos to the site.
Tags:
Mike Genovese
,
podcamp ohio
Posted in
Promotion
|
1 Comment »
Written by angelo on June 29, 2008 – 8:41 am -
We're having a post PodCamp brunch today at 10am at the Panera Bread (3625 Fishinger Blvd, Hilliard, OH 43026) by ITT (map) Technical Institute. We have extra chocolate candy buckeyes to give away, so if you like chocolate and peanut butter, you'll want to come to this brunch.
Tags:
meetup
,
post podcamp
Posted in
Meetups
|
Comments Off
Written by brandice on June 27, 2008 – 11:37 pm -
We have a disadvantage to many Podcamps, due to the fact that Twitter's tracking is currently turned off. To communicate with everyone about Podcamp Ohio, use the "@PodcampOhio" reply, and then here are a couple of ways you can manage/track that feed:
FRIENDFEED – We have a room, feel free to share, comment, discuss! RSS feed for Summize results imported here, as well as RSS for blog, and Twitter accounts.
SUMMIZE #1 – Twitters with "@PodcampOhio" in the text
SUMMIZE #2 – Twitters with "Podcamp Ohio" in the text
And of course, follow "PodcampOhio" for official announcements and tidbits throughout the day, and if you want to see the checkins, following "PodOhioCheckin" to watch everyone's arrival in the morning/afternoon.
Posted in
News
,
Sessions
|
2 Comments »
Written by angelo on June 27, 2008 – 1:35 pm -
The session schedule is now available.
https://2008.podcampohio.com/sessions.pdf
Tagging and Social Networking
Please use the following tag on sites such as flickr.
Tag: podcampohio
For Twitter, please use the main @PodCampOhio stream. If you would like to contribute your Twitter messages to the overall @PodCamp twitter account, simply prefix your messages with "pod ", exclusing the quotes of course.
Please see the social networking page for PodCamp Ohio groups and profile pages on many popular social sites such as Viddler, Blubrry, Flickr and Facebook.
Tags:
blubrry
,
facebook
,
Flickr
,
podcampohio
,
social networking
,
tag
,
tagging
,
tags
,
twitter
,
Viddler
Posted in
News
|
Comments Off